July 2023 Wild Ones Mid-Mitten Chapter news
Weeding in the Wildflower Walkway at Chippewa Nature Center, Midland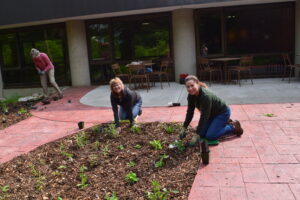 Since we planted new flowers and shrubs on June 6, we agreed to weed this garden for the rest of the summer-fall. Please consider helping on any or all of the following dates and times: July 11, and July 19 at 4:00pm with Sheila Gombar-Fetner leading. June 29, July 7, July 28 with Jeanne Henderson at 9:00am. Bring your own water bottle, gloves, trowel, and kneeling pad. Plan to stay 1-2 hours. Enter the Visitor Center and go through the back door to the Wildflower Walkway.
Ziibiwing Center native plant tour, Mt. Pleasant
Monday July 10 at 6:30-8:00pm
Staff of the Ziibiwing Center of Anishinabe Culture and Lifeways will lead us on an outdoor tour of their native plants. Learn the importance of these species to the Saginaw Chippewa tribe, why they were chosen for this landscape, and how they are used by indigenous people. To carpool, meet at the Chippewa Nature Center 400 S. Badour Road, Midland parking lot at 5:30 pm to carpool to Mt. Pleasant, OR meet us at the Ziibiwing Center at 6:30pm, 6655 E. Broadway Road. RSVP to 989-225-0059 by July 9. Cost for members is free. Nonmembers cost is $8.00. In case of inclement weather, we will contact you about alternate plans or cancelling.
Enjoy your garden biodiversity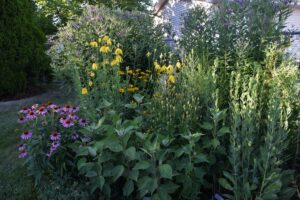 By mid to late July your garden may look like this, with a variety of colors, shapes, heights, and leaf textures. My east side garden shows Purple Coneflower on the left, with purple Ironweed standing tall behind. In the middle is Yellow Coneflower, False Sunflower, a few white spires of Culver's Root, and seed heads of Thistleweed in the center. In the foreground are healthy stems of Rose Mallow getting ready to bloom, and Stiff Goldenrod on the right side. As these move from year to year via rhizomes or seed dispersal, I get surprised by a new species that I didn't plant there, or the abundant growth of the chosen ones. As you invest time and money in your natural landscape, remember to observe and connect with it, to gain understanding of nature's ways and relax from your busy life.   – Jeanne Henderson